Funworld

November

2009

Sophisticated

Fun
FUNtain introduces a groundbreaking, original instrument to the attractions market—a flute/piano combination you can play in your bathing suit
by Marion Hixon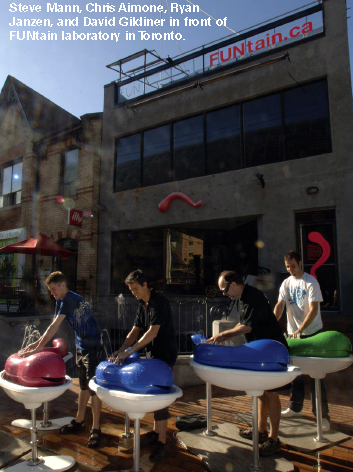 STEVE MANN SPENT THE PAST 25 YEARS fulfilling a childhood dream: creating an instrument that plays music with water. The Hydraulophone is essentially a pipe organ with water running throughout and shooting from its holes. It works like a flute and is played like a piano. With anywhere between 12 and 45 notes (patented "Hydraulikeys"), the long cylindrical tube is simplistically refined in appearance, but masterfully engineered inside.

Inspired by Water
"The basic idea of the Hydraulophone is that when you obstruct or change the flow of water with your finger, it causes some other type of multimedia event to occur," Mann says. He and Chris Aimone, designer and head engineer at FUNtain (FUNtain.ca), were both inspired by the states of matter and the idea to introduce liquid to the world of music. "After seeing the orchestra only has two sections—strings and percussion—I thought, 'Why are there no instruments that make sounds from liquid,'" Mann says.

Mann started teaching engineering at the University of Toronto in 1998 and along the way began collaborating with Aimone, his one-time student. Together, the two perfected multiple versions of the instrument, starting with Mann's early "H2Organ," on which he's performed live. He filed a patent for the invention and over time began marketing it as an attraction.

FUNtain formed in 2006, and Mann and Aimone added David Gildiner as director of sales and marketing, and Ryan Janzen, who holds the rare title of hydraulist/composer. Mann and his cohorts seem to have entered the attractions industry through the back door—not realizing until recently their high-quality musical instrument may be popular at facilities like theme parks, museums, zoos, and waterparks.

From Business Suit to Bathing Suit
"It's funny that the older versions of the instrument had water spraying everywhere, and that's now what the attractions industry wants," says Mann. "You can't walk into a concert hall and spray water on violinists."

The FUNtain team believes the instrument is a kid magnet due to its approachable design (the "Nessie" line is a worm-shaped Hydraulophone version for kids) and the fact that participants needn't be musicians to play successfully. "A day at the amusement park can double as a music lesson," Mann says.

Gildiner says the attraction lures both kids and adults to participate. "Every other water feature gets people wet while parents sit under an umbrella reading the paper," he says. "Once kids understand they're making music, cover up two holes, and play this beautiful chord, parents get a little more interested and play themselves. They block the holes and think, 'Whoa, I just played a C-Minor!'"

Those C-Minors can be heard in facilities from the Ontario Science Center in Canada to Baylor University's Mayborn Museum Complex in Waco, Texas. Hydraulophone installations are both mobile and stationary; suitable for indoors and outside; and operate on high flow (for getting wet) and low flow (for staying dry). They range in style from the Nessie line to large sculptural pieces.

The Ontario Science Center boasts a permanent outdoor Hydraulophone as the focal piece of its circular front walkway, open 24 hours a day to the public. "It speaks artistically because they wanted a grand, majestic civic sculpture," Mann says. "But it's also a fun park with a splash area, which challenges the preconceived distinction between work and play. We call it 'sophisticated frolic.'"

Contact Departments Editor Marion Hixon at mhixon@IAAPA.org.