· The Hydraulophone at Ontario Science Center (pictured above)
Much like a piano, on the hydraulophone you play individual keys. Unlike a piano, these keys are water jets that you stop with your fingers. You can play full, simple songs as though you were simply on a tin flute, but again you have to get wet. Most visitors to the interactive musical piece—one giant instrument, really—are usually on their way into Ontario, Canada's Science Museum, but that doesn't have to be the case for you. Playing the piece is free, and it sits in a public square just outside.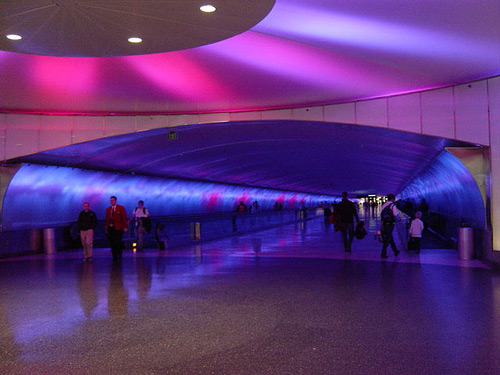 ·Detroit Airport's transfer tunnel
Perhaps the most relaxing of all these musical attractions is the LED-lit and ambient music-filled tunnel that goes between Detroit-Metro Airport's two terminals. After descending an escalator to the start of the tunnel, you take a moving sidewalk through a tube of changing light paired with sound. Even if you are experiencing this with forty other weary travelers, it feels as though the music and light is following only you, and as a result it is a welcome relief from a stressful travel day.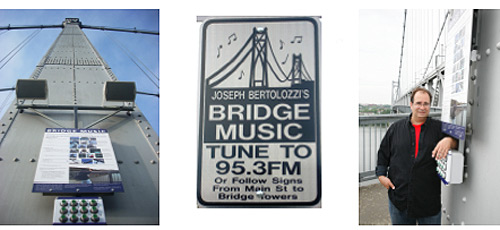 · "Bridge Music" On the Mid Hudson Bridge
This is for the road trippers. When driving or walking over the Mid Hudson Bridge near Poughkeepsie, NY, stop for a moment and listen to the music of the structure itself. Musician Joseph Bertolozzi has rigged this bridge so that its natural creaks and noises become music to your ears. Nothing else but the bridge is playing, and you can listen in two ways: by tuning into radio station 95.3 FM anytime, or by heading to a listening station on the bridge when they're open between April 1 and October 31.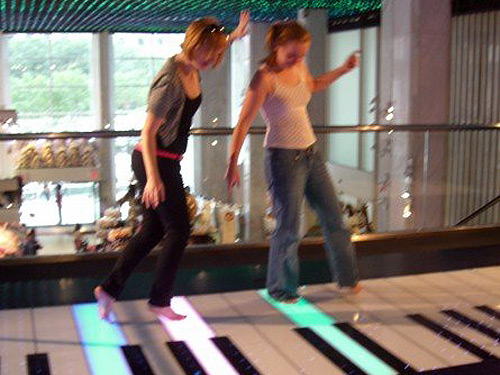 · The FAO Schwartz Keyboard Floor
This is a classic, first brought to the public consciousness when Tom Hanks and his boss performed a duet of "Chopsticks" on it in the movie Big. The same keyboard, which you play by stepping onto the various keys, still resides on the mezzanine of the FAO Schwartz toy store in New York City, although it's nearly impossibly to get the tourists off the board so that you can really rock out.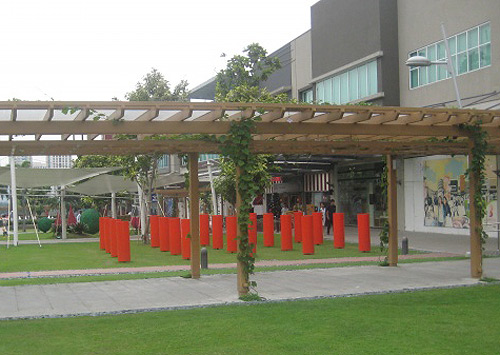 · Giant Chimes at Fort Bonifacio Global City
Located on the High Street shopping promenade in this Philippine city, you'll spot twenty bright red poles sticking out of the ground in the middle of a grassy area. Then you'll probably wonder why children are running and banging into them; they are giant chimes! Although the area boasts many other public art installations, the chimes are by far the favorite. It's a great break from seeing giant keyboards around the world too.
Know of any other musical public art installations? Let us know in the comments!
Related Stories:
· Bridge Music Info [Joseph Bertolozzi]
· Music Travel coverage [Jaunted]

[Photos: ArlandPenchant; wikimedia; TravBuddy; Joseph Bertolozzi; Jaunted] ShareThis